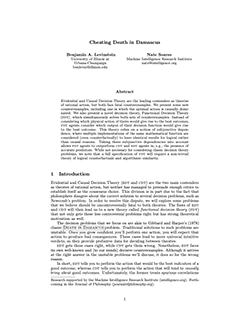 MIRI Executive Director Nate Soares and Rutgers/UIUC decision theorist Ben Levinstein have a new paper out introducing functional decision theory (FDT), MIRI's proposal for a general-purpose decision theory.
The paper, titled "Cheating Death in Damascus," considers a wide range of decision problems. In every case, Soares and Levinstein show that FDT outperforms all earlier theories in utility gained. The abstract reads:
Evidential and Causal Decision Theory are the leading contenders as theories of rational action, but both face fatal counterexamples. We present some new counterexamples, including one in which the optimal action is causally dominated. We also present a novel decision theory, Functional Decision Theory (FDT), which simultaneously solves both sets of counterexamples.

Instead of considering which physical action of theirs would give rise to the best outcomes, FDT agents consider which output of their decision function would give rise to the best outcome. This theory relies on a notion of subjunctive dependence, where multiple implementations of the same mathematical function are considered (even counterfactually) to have identical results for logical rather than causal reasons. Taking these subjunctive dependencies into account allows FDT agents to outperform CDT and EDT agents in, e.g., the presence of accurate predictors. While not necessary for considering classic decision theory problems, we note that a full specification of FDT will require a non-trivial theory of logical counterfactuals and algorithmic similarity.
"Death in Damascus" is a standard decision-theoretic dilemma. In it, a trustworthy predictor (Death) promises to find you and bring your demise tomorrow, whether you stay in Damascus or flee to Aleppo. Fleeing to Aleppo is costly and provides no benefit, since Death, having predicted your future location, will then simply come for you in Aleppo instead of Damascus.
In spite of this, causal decision theory often recommends fleeing to Aleppo — for much the same reason it recommends defecting in the one-shot twin prisoner's dilemma and two-boxing in Newcomb's problem. CDT agents reason that Death has already made its prediction, and that switching cities therefore can't cause Death to learn your new location. Even though the CDT agent recognizes that Death is inescapable, the CDT agent's decision rule forbids taking this fact into account in reaching decisions. As a consequence, the CDT agent will happily give up arbitrary amounts of utility in a pointless flight from Death.
Causal decision theory fails in Death in Damascus, Newcomb's problem, and the twin prisoner's dilemma — and also in the "random coin," "Death on Olympus," "asteroids," and "murder lesion" dilemmas described in the paper — because its counterfactuals only track its actions' causal impact on the world, and not the rest of the world's causal (and logical, etc.) structure.
While evidential decision theory succeeds in these dilemmas, it fails in a new decision problem, "XOR blackmail."1 FDT consistently outperforms both of these theories, providing an elegant account of normative action for the full gamut of known decision problems.
---
Just as the variants on Death in Damascus in Soares and Levinstein's paper help clarify CDT's particular point of failure, XOR blackmail drills down more exactly on EDT's failure point than past decision problems have. In particular, EDT cannot be modified to avoid XOR blackmail in the ways it can be modified to smoke in the smoking lesion problem. ↩