Get involved with our research
MIRI offers many opportunities to get involved including math research workshops, volunteering, and more.
Research Workshops
Join our research efforts by attending an upcoming workshop.
8.5/10
The median reply, from first-time attendees, to the question "How happy are you that you came to the workshop?"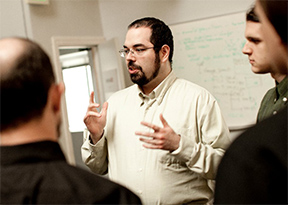 MIRI hosts several week-long math research workshops each year, in the USA and Europe, on topics at the intersection of mathematical logic and probability theory. Past workshops have resulted in papers about probabilistic logic, program equilibrium, and a Löbian obstacle to consistent self-reflection.
If you are interested or think you might like to attend such a workshop in the next 18 months, please apply below so we can chat with you about your specific interests and your availability. We use this information to plan our workshops, rather than scheduling our workshops and then inviting people, so please apply even if there isn't an already-scheduled workshop you know you'd like to attend!
Key Information
All expenses are covered by MIRI for invited participants.
An interest in AI is not required.
Familiarity with some relevant subject areas is recommended.
Most workshops are a week long, and take place at our office in Berkeley, California.
Apply Now
MIRIx Workshops
MIRI wants to support Friendly AI research around the world.
Our MIRIx program encourages mathematicians, computer scientists, and formal philosophers to organize their own Friendly AI workshops, and offers to reimburse the organizers for expenses.
A MIRIx workshop can be as simple as gathering some of your friends to read MIRI papers together, talk about them, eat some snacks, scribble some ideas on whiteboards, and go out to dinner together. Or it can be a multi-day research workshop pursuing a specific line of attack on a particular problem. It's up to you.
In some cases we'll be able to send a MIRI research fellow to your first meeting to give tutorials and answer questions, or perhaps they'll Skype in to your workshop to do the same. We'll work out the details, and send you some tips on how to organize the workshop, after you fill out the short form here.
Learn
Become a better-informed advocate for AI safety.
You can also get involved by learning more about what MIRI is doing and why, so you can speak to others about MIRI's work and encourage them to get involved themselves.
At MIRI we think that the creation of smarter-than-human intelligence will likely be the most significant event in human history, and MIRI exists to help ensure that this event has a positive impact.
In order to understand the importance of MIRI's work, it's essential to understand why we think an intelligence explosion is likely to take place, and what we can do about it:
Start by reading Smarter Than Us. This eBook is a great introduction to the topic.
What do we know about when this might happen? See When Will AI Be Created?
How can we increase our chances of a positive intelligence explosion? The most thorough analysis of this challenge yet published is Nick Bostrom's Superintelligence: Paths, Dangers, Strategies.
Give for Free
Join those who are raising money for MIRI simply by going about their everyday lives.
$18,000+
Amount raised to date through our "give for free" initiatives.
With your daily web searches, purchases at your favorite online retailers, and more, you can raise money for MIRI, all with no effort and at no cost to you!
AmazonSmile $1,500+ raised to date
If you shop at the new AmazonSmile, Amazon donates 0.5% of the price of your eligible purchases to a charitable organization of your choosing. MIRI is an eligible charitable organization, so the next time you consider purchasing something through Amazon, support MIRI by shopping at AmazonSmile!
If you get to Amazon.com via an affiliate link, remember to change "amazon.com" to "smile.amazon.com" in the address bar before making your purchase. Or, even easier, use the SmileAlways Chrome extension.
VigLink $4,300+ raised to date
Contribute to MIRI by monetizing the links on your site. Add the following code snippet to your website just before the </body> tag:
<script type="text/javascript">
  var vglnk = { api_url: '//api.viglink.com/api',
                key: '9f37ca02a1e3cbd4f3d0a3618a39fbca' };

  (function(d, t) {
    var s = d.createElement(t); s.type = 'text/javascript'; s.async = true;
    s.src = ('https:' == document.location.protocol ? vglnk.api_url :
             '//cdn.viglink.com/api') + '/vglnk.js';
    var r = d.getElementsByTagName(t)[0]; r.parentNode.insertBefore(s, r);
  }(document, 'script'));
</script>

Read more about how VigLink works here.
GoodSearch Tools $950+ raised to date
Raise money for MIRI through your web searches, online shopping, and more!
GoodSearch
GoodSearch (powered by Yahoo!) donates a small amount to MIRI every time you do a web search.
Sign Up
To ensure you use GoodSearch as much as possible,
GoodShop
When you use GoodShop a percentage of purchases you make at over 2,800 online retailers are donated back to MIRI.
Dell (4% of purchase donated), Barnes & Noble (3%), The North Face (5%), Walgreens (4%), Amazon.com (1.5%), Apple (1%), Banana Republic (2.5%), Expedia (up to 5%), and Hotels.com (3%) are but a fraction of the participating online retailers.
Best of all, when you install the browser extension (compatible with all major browsers), it all happens automatically without any effort on your part.
Sign Up
Volunteer
Join our volunteer list
MIRI doesn't currently have an active volunteer program, but from time to time we do need volunteer help.
Sign up for our volunteer mailing list to receive notifications about future volunteering opportunities.